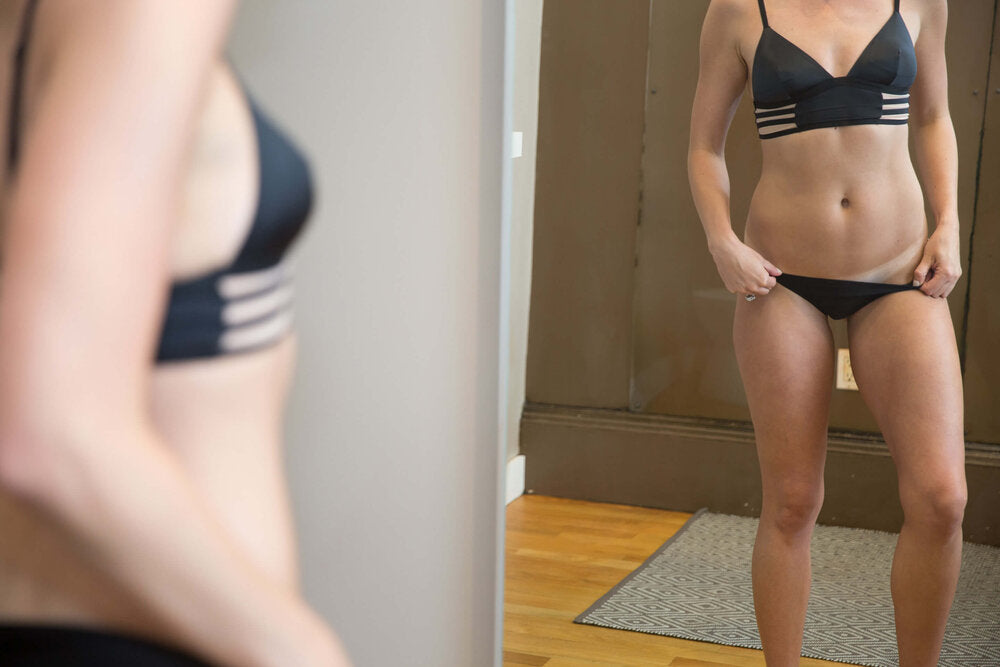 The Pure Glow Way: How Our Results Are Different
We're asked all the time what differentiates our salon's spray tan results from other studios in Boston. While our experience, commitment to safe ingredients, and focus on wellness do a lot to set us apart, how you look and feel after your appointment is where you'll notice the biggest difference.
There are 3 primary ways our tanning process delivers spray tan results you won't find anywhere else in Boston.
OUR TANNING SOLUTION
At Pure Glow, there is never any of the color mixing found at other salons. Instead, our solution is designed to result in a tone that replicates how a natural, sun-kissed tan actually looks on your unique skin tone. 
When our solution comes into contact with your skin, it's makeup causes a reaction that mimics the way that your skin naturally reacts in the sun. This results in a tan with the same tone you'd achieve by spending a sunny day outside and produces the ultimate natural tonality in your tan.
This doesn't mean that you don't have options when you tan at Pure Glow, though. You can still control the level and depth of your tan by choosing from our Menu of Looks. For instance, you can take a more conservative approach if that speaks to your preference or time of year, and just as easily we can provide a more intense look to show off a very noticeable tan if that is what you're after.
If you have any questions about which look is right for you, we encourage you to ask questions at your next appointment. Our team is here to help guide you through look selection and are experts on our unique formula. They know all the right questions to ask to determine which look fits your preference for that appointment, to help you achieve the perfect tone and create a flattering and believable-looking glow each visit.
THE PURE GLOW APPLICATION TECHNIQUE
We've developed our own proprietary application technique unique to our organic spray tan salon. Our entire staff is trained on this sophisticated process in-house. This robust training program takes between four to six weeks to complete and is only available to our team.
The process is largely personalized and custom to adapt to your unique shape, size, and skin tone. Part of our application strategy is to add color to emphasize where the sun hits you the strongest and to take a more modest approach in areas that don't see as much sun. 
The result is a flawless, believable, and natural looking sun-kissed tan.
One of the unique benefits to the Pure Glow process is our ability to tonally blend areas of your body to produce a more smooth and even tan. We can also even out most existing tan lines created by the sun, to create a more flattering result.
CONSISTENCY AND ATTENTION TO DETAIL
Your first tan should look and perform just as well as your fifteenth. Since day one, we've focused the Pure Glow experience around producing consistent results, every appointment. We want you to feel confident that you'll walk into our salon knowing exactly what you can expect and how your tan will look when you leave.
To ensure that consistency remains a constant, our team is trained to follow a proven, predetermined protocol, which balances the Pure Glow method and the artistry that your spray specialist has developed over time. We also perform quality control checks on a quarterly basis to ensure stellar, consistent spray tan results at every single Pure Glow appointment.
At every appointment, you can expect our team to...
Ask the right questions and listen to your responses

Make sure we have the information that we need to give you the best possible experience

Give each client time to look over their Pure Glow tan before we review it ourselves

Ask for approval to add on or make adjustments before completing the application in full
While we guide the experience with expert level skill, your opinion and feedback before we finalize the application is super helpful. This feedback gives us the confidence to finish strong and be sure that we've nailed each spray tan application, everytime.
SEE WHY PURE GLOW'S SPRAY TAN RESULTS ARE UNLIKE ANY TANNING EXPERIENCE YOU'VE HAD BEFORE
Experience how our unique spray tan solution, proprietary application method, and attention to detail work together to produce consistently gorgeous spray tan results.
Schedule an appointment online or by giving us a call at (617) 267-4455. We can't wait to prove to you why we're the best place to get a spray tan in the Boston area.